Leadership Breakthrough One is the most powerful leadership course I've ever done. It isn't for the faint-hearted, but neither is being a powerful leader. If you want to get out of your comfort zone and bring out your higher-self this course will do it!
Frank Sellam, CEO, Gernetic Skincare
The Rapport Leadership training has given me a total shake up.  I have overcome my fear of public speaking.  No course has ever provided the intensity like this leadership training. It's amazing how the Rapport team facilitates this program with such diversity, the outcomes are truly inspirational and marvelous.  I am no longer a leader, I am a great leader.  Thank you Rapport for taking me over the edge!  I am finally free.
Tanya Haggett, Area Manager, Wesley Mission
Wow!  I did things I never expected in a million years I would, or could do!  And I did it with confidence and I did it well!  It is astounding what we can push ourselves to do with the right leadership and fantastic support of the team (other participants), who I now will happily call my friends.
Leanne Allen, Director, Reconnect Wellness Centre
I never knew how much energy I can bring to the room and how much energy other people can bring to me.  It generated a whole mind shift.  Wow.
Rami Messiha, Performance Test Lead, Commonwealth Bank
Leadership Breakthrough One is mind altering, challenging and relieving at the same time.  This is the most relevant experience by far not only covering business life but also my private life.  There are no boundaries for any sort of achievements now for me.
Rick Faizy
Rapport Leadership Breakthrough One course gets to the bone of who you are and provides essential practical tools that will make you a better leader.
Brian Doughty, Director, The Outsourced CFO

Coming to this leadership course I didn't know what to expect but I knew I would benefit.  The course took me out of my comfort zone and pushed my boundaries further than I expected.
Eddie Vogel, Credit Adviser, National Lending Group.

It's challenging but it's great! From in the box to on top of the box. I never thought I could climb. But guess what? I could. I did. I am great!
Scott Hudson, Director Huddos Plumbing

From beginning to end my experience at Leadership Breakthrough One was highly intense.  I have delved into my core and discovered who I am.  I will take these tools awa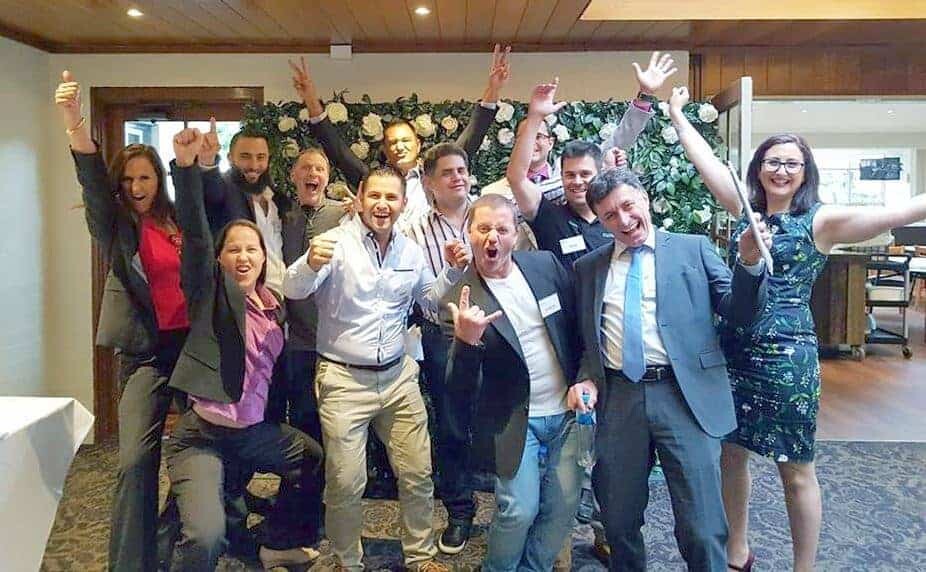 y with me and project with enthusiasm to my family a changed woman, a happier woman.
Zoe Phillips
This was one of the best, dynamic, engaging, mind changing and bonding leadership courses I've ever been to; certainly there are many breakthroughs during the duration of the course. Embrace them!
Ziad Hafda, Director, Skyform Group

Rapport Leadership is a great team for me to learn from.  So many things were within and they taught me how to bring them out.  They explained everything to push us forward in life.
Moe Masri, Foreman, FutureForm

I gained self belief and more direction, and clarity of how I will get to my goals.  Met 12 amazing people that all worked as a team and experienced everything together.
Keenan Galas, Director, Future Services
Very good course and glad I was involved.
Steve Molloy, Director, Lomah Studios
For more details on Leadership Breakthrough One, click here.