Communication is an essential leadership skill paramount to success. Improving your communication skills will enable you to communicate with greater clarity and confidence. 
Intensive communication skills training weekend.
ENQUIRE NOW for next course dates (Parramatta, NSW)
or to arrange a private session.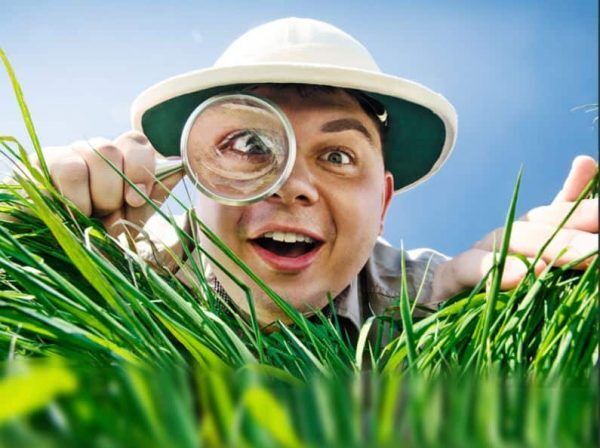 Could communication be the thing holding you back? If so, rest assured you're not alone. In fact, research points to communication as being one of the major areas that Australian leaders consistently fall short in, leaving enormous untapped business and personal potential just waiting to be harnessed.
Let us show you how to get the responses you desire from your communications more often and practice powerful communication techniques that can enhance your communication skills and confidence IMMEDIATELY at Power Communication Breakthrough.
At Power Communication Breakthrough you'll learn how to:
Create instant rapport with any communication style,
Collaborate in new and more constructive ways,
Understand blocks to communication,
Produce more win/win outcomes in negotiations,
Inspire people and teams to take action, and
So much more.
I have been on many communication courses over the years, including post-graduate study at university with world-class lecturers. Power Communication Breakthrough takes a completely different approach to anything else I have ever done and it has given me useful, powerful insights into my own communication style and how to recognise and adapt to others. What I have learned will make me realise my goal of being persuasive and authentic.
– Stephanie Dunn, Senior Business Analyst, PM Partners
Power Communication Breakthrough is also a great course to help foster stronger relationships and teamwork.
(…AND to get a jump on your competition.)
So, come yourself, or bring along your team or partner, and be immersed in a memorable, interactive and unique learning experience that opens up a whole new world of communication possibilities for you.

ENQUIRE NOW for next course dates (Parramatta, NSW) or to arrange a private session,
or Phone 1800 330 027 to chat with our friendly team.
This course is ideal for:
Leaders, Managers, Supervisors, Business Owners, and anyone who collaborates with other people to make things happen.
Anyone in a role where Selling, Negotiating and Building Trusted Relationships is important.
All Levels of Leadership Experience, as well as Teams and Partners wishing to foster stronger relationships and better communication.
What communication skills will you learn?
How to create rapport and master the essence of effective communication
Develop mutual trust and understanding thereby strengthening teams, improving productivity and fostering ingenuity
Listen to understand and help move the business in the direction of the desired culture
Discover additional perspectives to create new and different outcomes in every situation
Find new ways and innovative solutions to collaborate with like-minded people
Being proactive and seeking out understanding, choosing to remain positive
What communication skills are developed?
Creating instant rapport with people
Effective listening skills and listening to understand
Introduction to Applied Neuro-Linguistic Programming (NLP)
Understanding Visual, Auditory and Kinaesthetic communication styles
Living at "Cause" vs. "Effect"
Effective and precise communication skills for working in teams
Understanding blocks to communication
Identifying communication styles
Reframing your thinking for a new approach and increased resourcefulness
Producing win/win outcomes in negotiations
Inspiring people and teams to take action
You'll leave this course with
A solid understanding of how to create rapport and master the essence of effective communication,
An ability to develop mutual trust and understanding thereby strengthening teams, improving productivity and fostering ingenuity.
Listening skills that are developed to allow stronger relationships to be built, the discovery of new perspectives and improved performance and outcomes.
Your risk free guarantee:


If by the end of the program you are not convinced that what you have learned will significantly improve your results, help you make more money, and experience more joy, love and success in your life, we will refund your investment in full.
All we ask is that you:
Participate fully in the entire program
Notify the instructor before leaving on last day if you wish to get a refund
Return the workbook with all handouts and your notes

I have attended lots of self-development seminars for almost 15 years….you name them…..I have attended them. Rapport Leadership programs are outstanding. Starting from preparation up to finish – excellent!
Communication Breakthrough is definitely a life changing seminar. The training process is very effective and enlightening with full-on participation of attendees! I loved every moment of it. – Daisy Cumming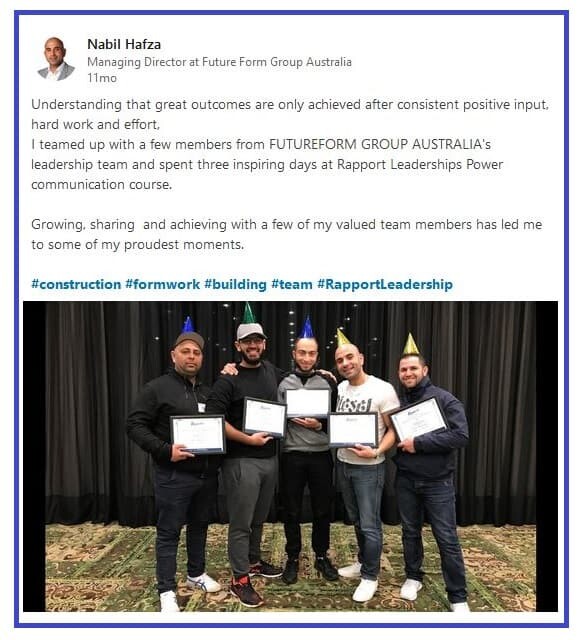 The next class is scheduled for:
Dates: Contact us for next course dates
Time: Friday 6:30pm until Sunday 5:00pm
Location: Parramatta, NSW
Investment: $1,495 incl. GST.
(Ask about special group and multiple bookings rates. Call 1800 330 027 for details.)

Other helpful information
Regular breaks are offered throughout each day. As the course finishes late each evening, you may wish to arrange to stay in the local area. The final day of your training will be celebrated with a graduation ceremony which family and friends are welcome to attend.
Did you know?…..
Private group sessions can also be arranged. Ask us for details by Calling 1800 330 027.
What course attendees have to say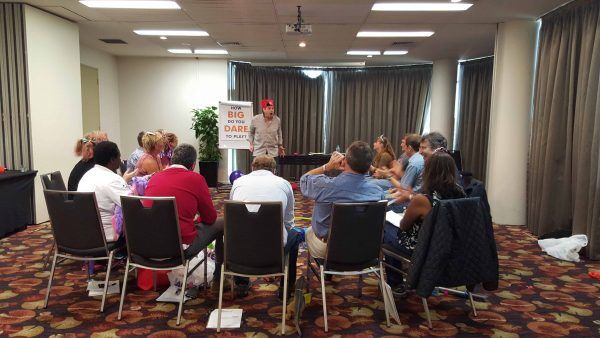 Wow! This course has been amazing. So much I can take back to my preschool and family. I'm very excited about the positive changes that will occur over the next few weeks. This is my second course with Rapport. I'll be signing up for my next one shortly. – Sue McIntyre, Director, Greenmeadows Preschool

The best course content and trainers I could ever have imagined! Power Communication has been an incredible experience – and sharing this opportunity with my husband has really taken our relationship and communication skills to the next level. I dare to dream big, change my thinking, create change in my life and make myself heard. I dare to make a difference! Thank you. – Michelle Biggs, Teacher

Relevant and impactful/fun exercises that anchored the learning content. Very unique content that stimulated my thinking, shifted perspective and catalyzed a re-think of purpose. – Bruce Leavitt, Business Development, Hire-a-Hubby

Thank you so much Lori, Jeremy and Lissa. I leave here with new insights into myself and the world. Amazing group of people. Thank you. – Camilla Andersen, Business Administrator

I have attended a number of courses at other companies/training schools but Rapport's Power Communication experience is the best. On a scale of 1-10, it's a 10. It's a course not to be missed to experience the professionalism and expertise on the subject matter which will benefit any person. The training process is powerful and the way they handled it in our groups is brilliant. – Triza Monte, Office Administrator

Another life-changing, mentally and spiritually challenging course from Rapport. In 2.5 days I have learnt so much about myself and gained valuable tools and knowledge to help me with life. Thanks guys! – Rob Dunn, IT Professional

Rapport training courses achieve incredible results. The programs pull no punches in order to push people beyond their self-imposed barriers whilst keeping everyone safe in an incredibly supportive environment. – Ian Ward, Director, Cyberpro

I found the Power Communication course useful in guiding me to achieve more and to communicate successfully with the people in my life and what the impact has with bad communication. A very powerful tool. – Carolyn Ward
I arrived with no knowledge or expectations about what I was going to learn. I feel like I have grown more in 3 days than the past 5 years. The process we have been through was amazing and I had to let go of my fears and limitations in order to participate. I was very grateful that I did it with my partner. – Mie Olsen, Supply Planner, Ecco Shoes

Power Communication has given me the information and practical experience I need to improve the way I connect with others. I particularly loved learning about the communication differences between people and why understanding these is so important. The course delivered more than I could have possibly hoped for, and I highly recommend it to anyone wanting to discover the secrets to building rapport and communicating with impact. – Vinette Landry
Excellent course – Got me to look at things I thought I knew differently. The course got me to take my mind back and get clarity on things that I had not cleared up. – Armando Camacho, Director, SignRise

Power Communication is an intense and outstanding experience. This is essential learning for anyone who wants to improve how they connect with others across all aspects of life. – Darin Landry, Business Development, Narellan Pools

No matter how well you think you communicate, there is always an opportunity to improve it or learn a new approach. Power Communication gives participants the tools and resources needed to be powerful communicators. The best part is the opportunity to practice our skills and come away with an action list. Thank you Lori, Jeremy and Rod for a powerful weekend. – Annabel Wood, Director, Simply First Aid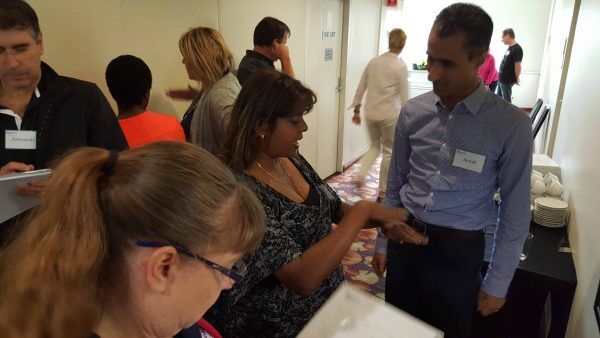 Rapport brings a fresh approach to understanding, interpreting and taking action when it comes to effective communication. I found that Power Communication has opened a new door for me to apply powerful skills in both my personal and business lives. – Jeremy Biggs, Director, Karroo

There were a lot of breakthroughs that occurred during the workshop. The group itself was a joy to work with. The course content and modules were helpful in helping the group to connect whilst providing us an environment to experience the content in a practical fashion. Help was always on hand if needed. – Anjie Lal, Manager, New South Lawyers

A lot of insight on how I communicate with my peers and family, also understanding how other people communicate. It has benefited me a lot on how I will connect with people day to day. It was a course that motivated me to move forward more and to love more. To be joyful. – Ruth Pasi, Founder, African Theatres

I have learnt a lot about my team over the last few days, however more importantly I learnt so much more about myself and I have put commitments in place to myself that I will do and complete to make me a better person and communicator. – Rabah Maraby, Director, Dot Design

Great insight into understanding how to communicate with people, specifically those who have been hard to connect with. Also lots of insight as to how I can create and negotiate a win-win situation in both my personal and professional life. – Arash Dadras, Director, SGSys

Power Communicaion is a course that truly makes you focus on the components of real communication. It delivers its message in practical and lasting ways. It really is a course not to be missed. – Schon G Condon, Director, Condon Associates

This course opened a whole new world to me. I now know that by listening and observing others, committing to taking action and being open, honest and present, is the best way to achieve anything. – Linda Gunek, Publishers, Sydney Hills Living

A practical, useable and repeatable learning experience. Great to do with your partner. – Tim Leggett, Infrastructure Program Manager, NSW Dept of Finance

Great training that brings the business communication up to the level of communication among human beings with their own personalities and background. Great tool to use in real life! – Gianfranco Giaconi, General Manager, Calderys
REQUEST MORE INFORMATION