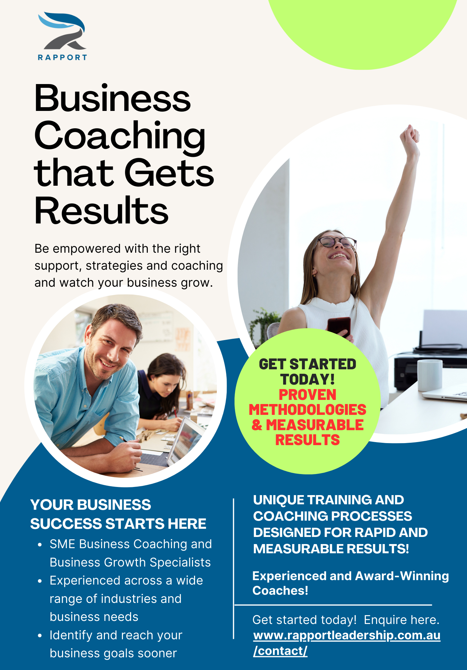 We're committed to helping you improve and grow your business, and accelerate your development as a business owner and leader.
Discover what a difference our unique approach can make to your business.  
Enquire here or arrange a FREE no obligation discovery call today!
How we help
When it's time to take the next step in your business, or you realise something needs to change, talk to us.  We have the proven strategies and the expert business coaching support that can help you
get your business on track

boost your business results, and


overcome the challenges that may be holding you back

.

It's simpler than you may think with Rapport Leadership.

Who our business coaching services are for?

We are SME business coaching specialists, with extensive experience across a wide range of industries, professions and stages of business so, whether you're 
starting out or

have an established business ready to expand or scale your business

 

(or somewhere in between!)

,
with Rapport Leadership you can start steering your business with MEASURABLE RESULTS.
The Benefits of Business Coaching with Rapport Leadership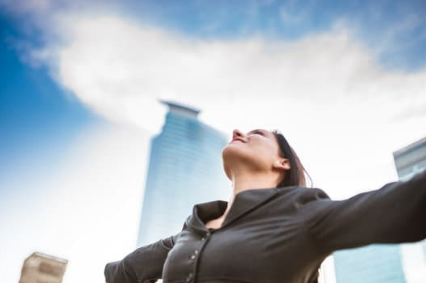 Increased clarity of goals, milestones and priorities
A clear documented plan to achieve your goals
Accountability and advice to keep you on-track
New perspectives on future growth for your business
Improved clarity of an empowering vision to inspire growth
A focus on supporting a stronger organisational culture
External accountability and a sounding board to achieve desired outcomes
Above all, UNLEASH a renewed sense of passion and enthusiasm for your business.
Smart, proven and practical strategies.
Experience, expertise and know-how you can count on.

Why choose Rapport Leadership as your business coaching partner?

If you're like most running a business, you're going to hit a roadblock from time to time.  We understand that and are here to provide you with practical strategies and coaching support to empower you as a business leader, and help you gain clarity around your business goals and reach them sooner.
What makes us so different to other business coaching services is our ability and willingness to go further in ways others don't or can't, paying particular attention to the changing business and digital landscape, and helping you conquer common obstacles that make it difficult taking the next step.
If you're ready to turn things around and make measurable strides in your business, we'd love to be part of your business success story.
Get in touch today and let's explore the possibilities.
Sincerely yours,
Jeremy
Jeremy Carter
CEO (Chief Enthusiasm Officer and Founder – Rapport Leadership Australia)
How we deliver our Business Coaching
Your one-on-one business coaching sessions are conducted online so you don't have to leave your work site, office, premises or home.  Unlike many online business coaching services, your business coach is a RAPPORT LEADERSHIP business coach….no outsourced ring-ins here!
Although regular business coaching sessions are done virtually online,  where practical we recommend in-person business coaching sessions to help kick things off or times when face-to-face sessions are needed.
We are Sydney business coaches providing business coaching services throughout Australia.
How Business Coaching works at Rapport Leadership
About our Business Coaching Team and Capabilities
It takes years of business experience and specialised training to be a Rapport Leadership business coach.
Our business coaches and business mentors are:
Experienced in a wide range of business and leadership disciplines and meet our high professional and ethical standards

Use proven strategies and processes that have stood the test of time

Can provide innovative solutions and industry networks very few can match to further enhance your business growth, profitability and success, and

Conduct coaching in a relatable and non-judgmental way (…and yes, sometimes with a bit of tough love too!)
Committed to helping you build and lead a great business

Our strategies and approach are suited to most SME businesses whatever stage or size, including
Start ups and new businesses
Sole traders
Small businesses
Medium businesses
Preparing a business for sale
Types of businesses we help 
Professional practices (accounting, legal, insurance and health)
All trades and trade services (construction, electrical, plumbing, handyman & mowing services)
Education and training
Marketing and advertising
Architectural and design services
Interior designers and renovation
HR and recruitment
Events and hospitality
Aviation
Motorsports
Digital, IT, software and computer services
Manufacturing, logistics and distribution
Business services
Retail
Mining industry services
Disability services
Home businesses
Franchise businesses
Start ups
And more!
NEW!  Exclusive Online Business Training and Resources
Did you know that with Rapport Leadership business coaching services, you have access to a wealth of resources to support you in your leadership and business journey, including FREE business training videos available on demand to help give a boost to your business knowledge and education.
Effective and professional business coaching services designed to help you bring your business to life.
Do I have to grow my business big to benefit from business coaching?

Absolutely not!  If you'd like to improve your business, but not sure if you want to be bigger, you're not alone.  Many business owners and leaders feel comfortable with the size they are and choose our business coaching services to
Improve the way they run their business

Learn how to manage cashflow better

Increase profits, competitiveness and efficiency

Implement cost-effective marketing strategies (including getting a grip on social media!)

Want to find out how to go about a digital transformation

Be able to recruit, manage and retain staff better

Reclaim work-life balance or

Need assistance with preparing a business for sale.
With Rapport Leadership business coaching services, you are in total control of your business goals.
Chat with us to find out more.
Can business coaching help when my business feels like its going backwards?
Rest assured, frustration with where your business is happens to just about every business owner at some point.  The great news is, the sooner you have the right strategies, structure and expert know-how for your size and stage of business, YOU'LL be better equipped to tackle difficulties and lead your business in a better direction.
Powering up and supporting Australian businesses with strategies that work.
Think you're not ready or too busy for business coaching?
Here's why there's never been a better time than NOW to get started.

Reach your business goals sooner

Be empowered as a business leader

Start overcoming challenges and worries that are holding you back 

(including cash flow, sales and managing a team)

Avoid the many common mistakes that bring businesses down

Have your own business expert to bounce around ideas and gain practical insights and know-how
Would you like to learn more?