Running or leading a business is a thrilling and challenging journey, full of ups and downs.  It takes grit, determination, and the right mindset to make it.  But even the most successful business leaders didn't do it alone.  They understand the power of mentorship and the vital role it played in their success.  (We've even spotted tips from no other than Richard Branson about finding a mentor on the Virgin.com website!)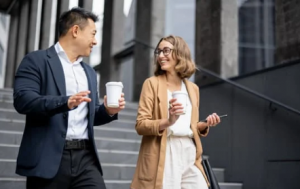 Mentorship comes in many forms, from informal relationships with more experienced business owners to formal coaching programs.  Regardless of its shape, mentorship is a critical element of business success.  Successful business owners understand this and make mentorship a priority in their lives.
Listening to a recent podcast, Australia's Melanie Perkins (Co-founder of Canva…you know, that little-known design platform!), talked about the mentors that crossed her path.  Some came from highly technical backgrounds and provided her very specific guidance, some she found from listening to podcasts herself and finding information online.
Then there is Christine Holgate, CEO of Team Global Express and board member of Collingwood Football Club.  Christine Holgate is regarded by many as a success story in both business and leadership, and recently spoke at a summit about the importance of mentors in her own journey and the doors they opened, including those in her younger days in the UK that believed in her and showed her the way.
But it's not just well-known business leaders who understand the importance of mentorship.  There are countless stories of lesser-known business owners and leaders who credit their success to the guidance and support of a mentor.
Most importantly, mentoring has an important role in virtually any type of business or career, whether you are wanting to create a successful small home-based business to someone who wants to take on the world in their industry.
What are some of the ways a mentor can help?
Looking at business mentoring specifically, the type of mentoring you need will depend a lot on the your level of business experience and the type and size of the business.
With the right mentor, you will gain the benefit of their experience and perspective which you wouldn't get otherwise.  They'll help you to see things differently and help you develop the skills and strategies you need to succeed.  The case if very similar when it comes to leadership coaching and mentoring.
What is it about mentorship that makes it so powerful?
There are many factors, but one of the most important is the ability to learn from someone who has been there before.  A good mentor has experienced the highs and lows of entrepreneurship and leadership, and can offer valuable insights and advice.
Another critical factor is accountability.  A mentor can hold you accountable for your goals and help you stay focused on what's important.  This can be especially valuable for business owners who are just starting out and may not have a clear sense of direction.
Something that isn't often talked about, is the mentor's ability to see the potential in you that you don't necessarily see in yourself, and help bring it out.
Finally, a good mentor can help you build your network by helping you make the connections that can be critical to your success….and often it is these networks and connections that can make or break your business.
If you're a business owner or entrepreneur who is struggling to achieve your goals, bringing in a business coach and mentor could be the "the thing" that
builds your confidence
gives you the motivation to strive further, and
equip you with the skills, strategies, know-how and connections to turn things around.
One of the benefits of bringing in an experienced business coach and professional mentor is that they have a different level of commitment and ability to give you assistance.
Here at Rapport Leadership, for instance, we are business and leadership specialists, with a wealth of experience and expertise in helping businesses rapidly get on track and growing and elevate leadership effectiveness at all levels.
So, where to from here?
Rapport Leadership offers a number of mentoring and coaching options that empower and support business owners and leaders.  If you would like to explore these and find out how they can help you transform your business and leadership effectiveness, contact us today to arrange a confidential chat.