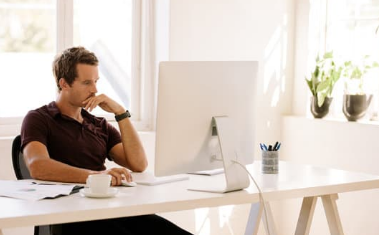 For many of us, here we still are….again.
Just when we thought we were getting on top of things, Delta came along throwing businesses, plans and so much more into disarray, to say the very least.
It can be difficult at times to remain positive when juggling the pressures of lockdown.
Here's the thing, even though it isn't always in the forefront of our minds, building and keeping connections while in isolation is important.
Extensive research shows that personal connection helps to
Support mental health
Increase level of happiness, and
Improve your ability to be resilient when the going gets tough.
Here are some ideas that may help you get connected during these challenging times.
Make connections a priority and schedule time

Although we're in lockdown, you'd be surprised just how many people have found themselves busier than ever so getting connected is something easily overlooked. Make it a priority and part of your daily routine.

This can be as simple as a regular check in with someone over the phone, including employees and colleagues, or a scheduled walk if rules permit with a friend or on your own. Afterall, a friendly gesture or greeting with those you pass by in your local area can help brighten your day and theirs, even if you're masked up and keeping your distance.

Reach out first

Connections don't just automatically happen. Be the one to reach out to a friend, a family member or even a neighbour. The chances are they'll really appreciate you made the first move to connect. Unfortunately, people that are struggling are reticent to reach out for help, so it's important you go first.

Business and community groups

Local business and community groups are a wonderful source of connection, with many making the shift online. I'm a member of a local Rotary Club and we invite new people to be our guests at online meetings.

Similarly, business networking groups provide a source of support and connection with others who understand just what you're going through like many others don't.

By the way, if you're from North-West or Western Sydney and would like to be a guest at my Rotary Club or learn more about local business networking groups, just drop me a line.

Courses and personal interest groups

Don't underestimate courses and personal interest groups. They offer a great way to connect with like-minded people and can help build opportunities for continued learning even once lockdowns lift.
Physical connection

Many people would be missing the hugs and comfort they get from physical connection. Here's an idea I gained a couple of days ago (thanks Anna!) and one I'm sure grandparents, in particular, will love…..

Email a hand print or mail a copy of your hand to your special person. It gives the other person something to touch and help visualise that you're close by.

Also, never underestimate the power of giving yourself a pat on the back. Believe it or not, it can help release happiness chemicals.
A couple of words of warning!
Make sure the connections you make are QUALITY connections. Social media platforms can be a good way to connect but do try to limit your time on them and steer yourself away from misinformation and negative content.
When connecting, give the other person 100% of your attention, no multi-tasking allowed.
As leaders, you are responsible for putting out the energy levels you want to see in the people around you. Choose the energy level you want to operate at and lock it in before you start work each day. There's a world of opportunities out there just waiting for you to discover them.
If you have any questions or would like some assistance at this time, please do get in touch as we're here to help.
We also have a huge library of articles to explore, including one of our all-time favourites on building strategic alliances and business relationships which you may find helpful for building QUALITY connections that may endure even after restrictions lift.