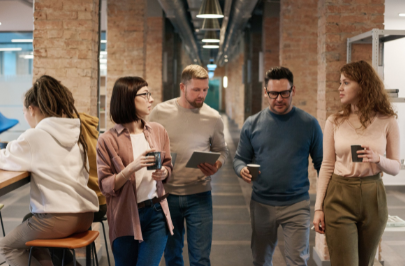 It's an age old conundrum, why bother investing in training for frontline staff at a time when employee loyalty seems to be at an all-time low? What if the employee uses the training to push for a pay rise or shop their new skills around to the marketplace to get a new job?
As a business and leadership coach for over 15 years, I've encountered this mindset with many managers.  "What if I train my employee and they leave?", the manager says.
"What if you DON'T train them and they stay?", I typically ask in response.
The real secret to building a great organisation is how you attract and retain great employees.  An organisation will only ever be as good as the talent it is able to hire (and keep) and this comes down to the culture and leadership within the organisation.
A recent study in 2017 of Australian Leadership by the University of Melbourne Centre for Workplace Leadership found that many Australian organisations do not invest in leadership development at all, or invest very little despite there being clear evidence that the investment improves leadership capabilities and self-efficacy, driving workplace innovation and improved workplace performance.
Quite shockingly, the study found that in the Asia-Pacific region, for every $10 spent on senior leaders training and development, only $1 was being spent on frontline leaders. This is very likely one of the key drivers for the fact that one in three workplaces in Australia underperform against their sales and profitability targets.
So how can we turn this around?
The first step is to realise that your employees in your business are your number one asset and that as your business grows, you don't always just need more people, you need your people to be better.  Countless surveys have found that the real costs of employee turnover can range between 50-75% of the employee's wage.  When you hire, you want to do so with an attitude of hiring for life, bringing in the best people possible, paying them accordingly and developing deep, trusted and mutually beneficial relationships with them.
One of the secrets to staff retention is to allocate each of your employees a professional development budget and as part of their annual review, to identify skills gaps that training can address.  The key is to be proactive in training staff ahead of when they need the skills.  Time after time I see employees promoted into management roles without training, leading to poor outcomes for all concerned.
Leadership training is powerful in that it focuses developing what I call CORE skills (Communication, Ownership Mindset, Responsiveness and Emotional Intelligence) which lead to improved teamwork and business performance.  Frontline employees are critical as they are your interface with your customers and determine the experience that your customers receive.
At Rapport Leadership we love delivering programs for organisations to develop leaders at all levels, promoting a better workplace culture and most importantly, better organisational results.  We do this by offering on-site, online and off-site training experiences that challenge, engage and develop your employees.   For more information on how we can assist, drop us a line and we'll be in touch.