Improving the Culture in Schools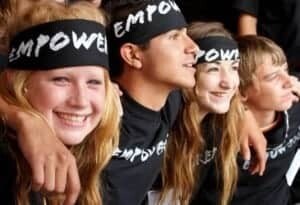 Teen Leadership Breakthrough training has a significant positive effect on the culture of schools. Having teachers and administrators also attend Rapport training fosters their ability to remind students of aspects of the training. Additionally, students completing the program talk about it with other students. The residual effect is that the concepts learned in the Rapport training become integrated into the classroom, thereby positively affecting all students. 
School Resources
Rapport Leadership delivers behaviour-changing training programs designed to increase focus, confidence, communication, and accountability. The result is a culture where both teachers and students are motivated, aware, engaged, and empowered to lead. We firmly believe the way to create change within a school is to begin with the administrators and teachers, and then begin training the students. When both teachers and students attend our courses, we know the common language and experience allows for continual reinforcement, a sense of community and mutual respect.
Custom Youth Programs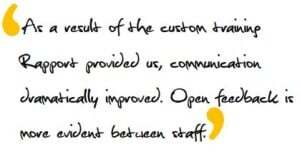 Rapport Leadership also offers custom training that focuses on changing behaviours directly related to specific student and educational needs, such as personal accountability, team collaboration, leadership, and planning. It doesn't matter whether your school or organisation has many or few Rapport graduates, if you would like to align the leaders and the culture, and create efficient change, our custom training will deliver results.
Staff Development Programs
We understand that every culture has unique challenges and goals. Whether you want to enhance teamwork, improve communication, increase accountability, or provide your staff with new skills, we will design a program to meet your needs. Custom classes provide a structured environment that address the essential developmental aspects a school needs to take themselves to the next level. Our plan-of-action will address the full environment, including the development of students, teachers, professors, families, and administrators.[/vc_column_text][/vc_column][/vc_row][vc_row][vc_column width="1/1″][mk_custom_list style="e26c" icon_color="#387dc8″ margin_bottom="30″ align="none"]
Our strategy to create a custom training class includes:
Assessment & Analysis
Design & Development
Training and Facilitation
Follow-Up Process
Measurement & Next Steps
Rapport knows training is not an event; training is a process, and we ensure your school has the support and resources it needs to create sustainable results.
Proven Results – Two studies. One result.
Rapport's Youth Leadership training complements formal education by improving the educational environment in schools through empowering the individuals and developing cultures of leadership. As shown in two of our case studies, our training provides sustainable results and creates a unique atmosphere of integrity and trust between students, teachers and administrators.
The Milwaukee Study Findings
Purpose: The purpose of the Milwaukee Study was to conduct an objective evaluation of the effectiveness of the Rapport Teen Leadership Breakthrough program (RTLB). Using two different high schools, each containing diverse student populations with different missions. The aim of the study was to measure the short-term and intermediate effects of RTLB on the emotional intelligence and behavioural aspects of teenage students between the ages of 16 and 18.
Overview: The researchers conducted an experimental study with two urban high schools located in Milwaukee, WI, during 2009. A total of 158 students comprised these study groups. The schools were CEO Leadership Academy and St. Joan Antida High School.
Results: Rapport Teen Leadership Breakthrough training quantitative data shows positive changes in the students attending the course including their self perception, emotional intelligence (stress, tolerance, problem-solving and happiness) and in the areas of Social, Affect, Academic and Total score for the students' self concept. Qualitative data from student interviews indicate a unanimous positive improvement in attitudes and behaviours as a result of the training. Test scores and interviews indicate that students who completed the Rapport training have a positive effect on the other students. They encourage students, help others with teamwork, provide leadership, and serve as role models.
The University of Calgary Study Findings

The University of Calgary Study was designed to evaluate the effectiveness of the Teen Leadership Breakthrough program developed by Rapport Leadership International, in supporting development of life skills associated with leadership youth.
Overview: This study evaluated the Teen Leadership Breakthrough program's efficacy in developing intrapersonal skills of 77 high school students in 10th and 11th grade that attended a public charter school in a large urban center.
Outcomes: Participants demonstrated a greater improvement in their social awareness and interpersonal understanding, a greater capacity to adapt to changes, greater improvement in their understanding of the inner self, a higher degree of emotionally intelligent behaviour, a greater capacity to attain goals and grow in competence, and a greater capacity to understanding feelings and emotions.
The results demonstrate that the Teen Leadership Breakthrough program has the capacity to impact positively on knowledge of self and others, self-concept, and social behaviour, in general. Moreover, these attributes, attitudes, and skills have been shown to positively impact school success and long-term life outcomes.[/mk_custom_list][/vc_column][/vc_row]
Request more information