Are you ready for the ultimate in nautical leadership training?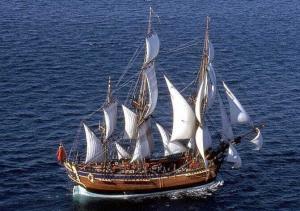 Join us aboard the HMB Endeavour for a unique five day experience…
Most management and leadership training never leaves the classroom and much of it is forgotten in a few short weeks. We are excited to announce we are working in conjunction with the NSW Maritime Museum to develop an unforgettable leadership development experience.
This experience is designed to provide a safe environment in which you can experience, learn and master critical leadership skills that will make you a better leader, improve your productivity, ability to make quick decisions, communicate with confidence and inspire and motivate teams.
This experience will benefit anyone already in a leadership or management role or working as part of a team.
"I invite you to sail with us on the HMB Endeavour to learn more about yourself as a leader. It's an amazing adventure and you get to experience teamwork in a whole new environment. For everyone, sailing an 18th century sailing ship in the 21st century is a rare privilege and I've never met anyone who doesn't enjoy and treasure it.."
John Dikkenberg, Captain, HMB Endeavour
What leadership skills are developed?
Anatomy of a Leader
Criteria for success as a leader
Listening and communication
Overcoming fear and procrastination
Teamwork and support
Giving effective feedback
Holding people accountable
Identifying your mission
Pricing Information
Next voyage: early 2015, sailing from Sydney.
What results can you expect?
An unforgettable five day experience aboard HMB Endeavour
New friendships you will value for the long term
Renewed passion and energy from connecting with your true purpose
Increased self awareness, emotional intelligence and ability to connect with people
Focus that sharpens your ability to shut off distractions and improve your outcomes
Improved communication and accountability to align your team for optimum results
Skills to inspire and motivate your team
Confidence to push beyond your comfort zones and achieve more than ever before
Voyage crew berth $1,775
Supernumerary berth $2,875
Places are limited so be sure to book early.
Q: How do attendees rate Rapport Leadership training?
Course Quality 9.69/10
Course Breadth 9.55/10
Course Relevance 9.69/10
Trainer Knowledge 9.8/10
Trainer Engagement 9.91/10
Survey Data from over 350 course attendees in 2013