Cracking the Communication Code for Leadership and Collaboration Success
July 3 @ 9:15 am

-

12:15 pm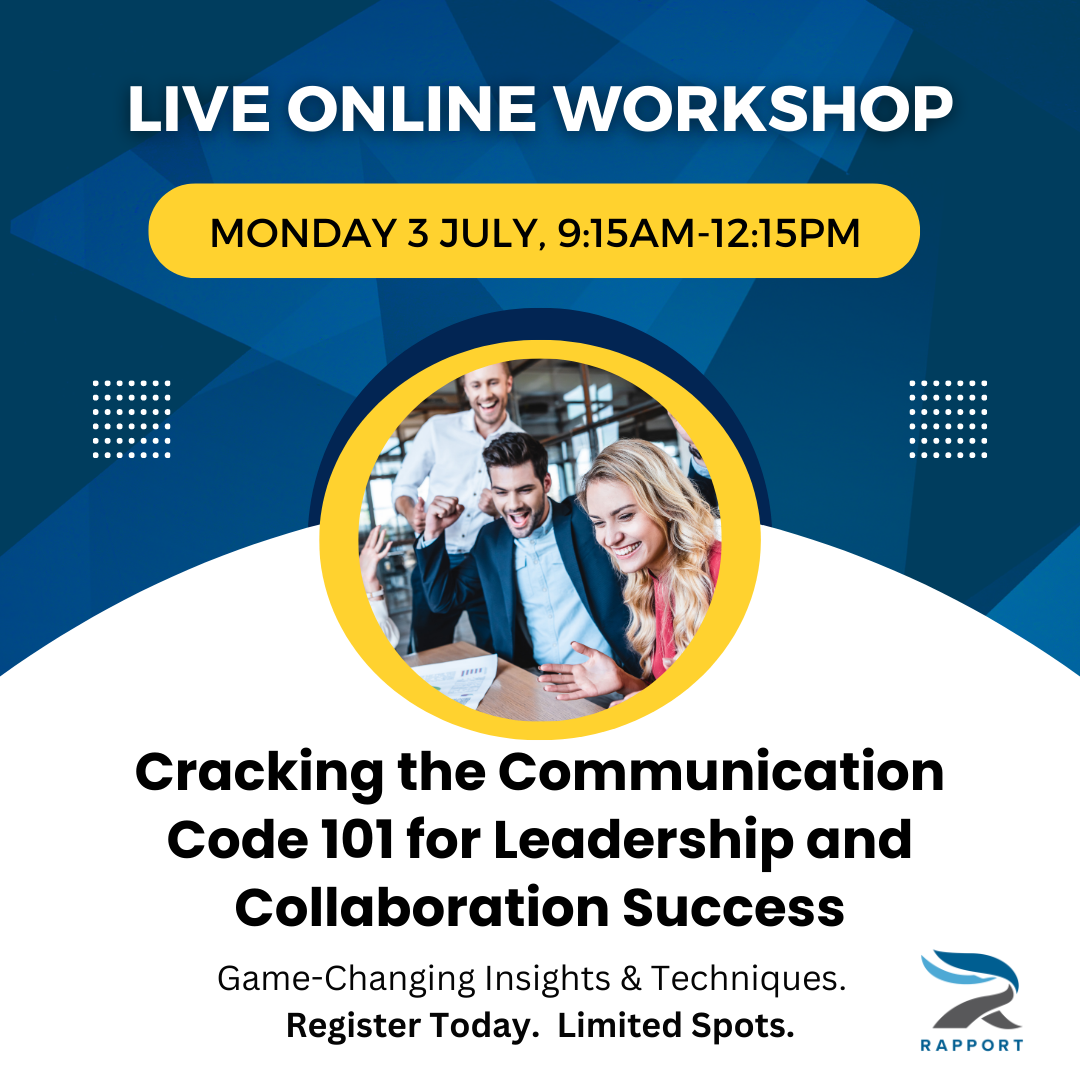 Live Online Communication Training Workshop
Monday 3 July, 2023
09:15am to 12:15pm
About this workshop

Ever met someone who seems to get you straight away or manages to connect with everyone they meet?  In business, career and your personal life, these type of interpersonal communication skills can help you build instant rapport, improve your leadership and communication effectiveness, strengthen relationships, and revolutionise your approach to working with others.
In this fun and interactive communication workshop, you'll learn:
Why communication and collaboration is essential in today's business landscape
What are the types of communication skills needed by leaders and teams and why
Overview of VAK learning styles and how 'cracking the code' allows you to communicate more effectively with others
Simple communication techniques you can start applying straight away for big impact
How to improve collaboration, understanding and teamwork in your workplace or business.
We'll also be doing practical exercises on the day, and this workshop is the ideal springboard for further leadership, team and communication development.
With businesses and organisations moving towards more collaborative cultures, this workshop is a must.
Who this workshop is for
This is an introductory communication workshop designed for leaders, managers, business owners, team members (including frontline workers, sales and project teams, and networkers) and anyone wanting ideas about how they can improve their communication effectiveness.
About your presenter

Jeremy Carter, CEO (Chief Enthusiasm Officer), Rapport Leadership Australia.
Jeremy has been empowering leaders and organisations to reach their potential for over 15 years, and has been recognised as a leading presenter, trainer and coach in leadership, business, and team development.  He has a particular passion for helping others to improve their communication abilities as a key to success in leadership, business and career, and is trained in NLP (neurolinguistic programming).
Don't delay, limited spots.
———————-
Special Note:
This workshop is also available as an adapted private onsite group training session (in person) for your business or organisation.  Contact us to find out more.