Why Personal Development is Important to Business and Leadership Success
In the boardrooms of successful companies worldwide, on-going personal development and training of executive and management teams sits high on the agenda.
The reason for this is simple. Without the re-invigoration, clarity and motivation that comes from personal development, even the best performing superstars of an organisation will lack clarity and self-awareness and find it difficult to maintain the level of energy, focus and drive needed to continually find opportunities for improvement, and to lead and inspire others to work in support of organisational goals.
For the individual, personal development provides understanding and certainty, along with a sense of self, purpose, and awareness of personal strengths and limitations; all of which combine as key foundations of leadership in both personal and business settings.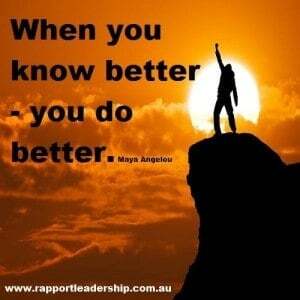 What personal development does is push people outside of their comfort zones to discover what they are truly capable of. It also allows them to see how they react under stress, how to accept feedback from others and provides a pathway for growth to the next level, whatever that may be in each individual situation.
If a leader of an organisation is not prepared to face the challenges of personal development, then it is unlikely that team members will embrace personal development either. At Rapport we know that when we improve the person, the performance improves. When we improve the performance, the family improves, the business improves and the community improves.
Rapport's intensive leadership courses and on-site professional development courses are experiential classes, providing targeted personal development. They are designed to allow people to discover and experience their leadership strengths, understand what strong leadership involves, what they can do even better, and practice their own unique leadership style. Graduates are resourced with experience and greater confidence to lead the way more effectively – personally and in business.
If personal development is important to you and your organisation, contact our leadership training team to learn more about our internationally acclaimed courses and customised training options available in Australia and New Zealand.
Request More Information