Teens Leadership Launchpad
January 18, 2017 @ 8:00 am

-

5:00 pm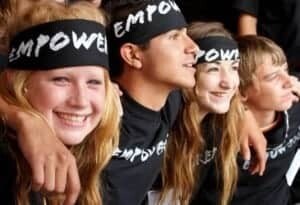 Do you see leadership potential in someone who may not yet see it in themselves?
This engaging leadership workshop has been designed for teenagers (15-17) to help them discover the leadership skills that already lie within them.  Fun and engaging processes allows attendees to learn and practice the skills of successful leaders. Processes reveal how you are responding in everyday life and teach you new ways to respond to achieve better outcomes.
Gain self-awareness and learn how to take focused action, concentrating on the areas of your life that are important to you.
Identify whether you are surviving or thriving in each of your life areas and key life success principles
Assess your current attitudes and how they affect your results
Learn to change your approach when things aren't working and how your thoughts affect your outcomes
Understand the characteristics and behaviours of the most successful leaders
What you will learn by attending?
Why leadership matters and how to be a better leader
Building trust and facilitating communication to build a more successful tea
Gaining respect  from the people around you
Better inter-personal communication skills
Successfully building new relationships and life long friendships
For best results, you are invited to bring your friends along with you
This workshop is priced affordably at $127 per student including refreshements and lunch.
Seats are limited to ensure this is a very interactive event so contact us to BOOK TODAY.
Due to popular demand, we are considering additional dates and locations, so let us know if you would like us to one run in a location near you.